Butch Trucks and the Freight Train Band Roll Through Orlando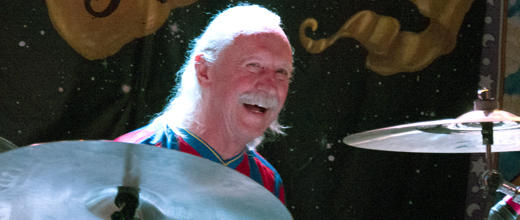 Butch Trucks and The Freight Train Band
w/ Thomas Wynn and The Believers
The Plaza Live, Orlando, FL
Let's travel back in time and pretend I'm writing for a weekly publication, and that this is not late, or overdue, or any of them tardy related phrases. In all fairness, my laptop up and died before
Christmas and I just got the replacement, so I beg forgiveness on this late thing.
This said, Butch Trucks and The Freight Train Band were insanely good. They brought their Trucks Family roadshow to Orlando and put on an event for the ages. Not content to sit about idly following the 2014 finale of the Allman Brothers Band, of which he's a founding member, Trucks formed the Freight Train Band.
The band was originally a four piece, Trucks, son Vaylor Trucks on guitar, Berry Oakley Jr. (bass, naturally), and keyboard legend, Bruce Katz. The band has since been expanded with Damon Fowler on second/slide guitar. This night they were joined by Tad Isch on second drum set.  Isch helped add the percussive depth people are used to hearing on the Allman's numbers through the night. "Hot 'Lanta," "Jessica," and In Memory of Elizabeth Reed," were all bandied out and warmly received.
But true to his nature, Butch (forgive the lack of formality, but there are a lot of people with the same last name involved) wasn't interested in doing a greatest hits, by numbers, sort of show. Early on he announced, "This is only
the fourth time I've ever sung onstage."
He was quickly corrected by the band, "Fifth!"
"Alright, the fifth time. I'm having a good time, so I hope you're all having a good time too." The band launched into a raucous reading of Bob Dylan's "Highway 61." Damon Fowler's slide work was fiery and fluid.
FSU marketing student and remarkable singer/guitarist Heather Gillis joined the band for "Ain't No Sunshine." Gillis also sang a duet with Berry Oakley Jr. on the classic "Only You Know and I Know."
Daughter Melody Trucks joined the band with Gillis to sing back up on Knockin' on Heaven's door." Later, she sang lead on "Statesboro Blues." Granddaughter Astrid Trucks song back up and took a verse on the classic, "Ophelia."
The show closed out with "In Memory of Elizabeth Reed," which leapt into new territory during Vaylor Trucks solo. The song twisted and turned itself into a manic swirl of notes reminiscent of Coltrane's wild squalls of abandon. It wound it's way out, back to the melody, held together deftly by Oakley's solid bass playing.
Heather Gillis was brought back out to sing the encore, "Whipping Post," which she positively killed. The song live, is positively visceral. The audience reaction nothing short of fervent. And the performance, over the top and imposing. Through the course of the night guitarist Vaylor Truck proved himself at every turn. "Whipping Post" allowed him one final opportunity to provide a combustible climax to the legendary number. His soloing was emotional, inspired, and thoroughly volatile. Vaylor Trucks is a name more people need to know.
The big takeaway from the evenings entertainment, is that Butch Trucks has no interest in leaving the stage behind him, and is just as solid and energized as he ever was. He seemed to be enjoying himself and loved having his family alongside him. The show ran over two hours and felt hopeful and cathartic at once.
Orlando's Thomas Wynn and the Believers opened the show with a bluesy set of original numbers. Thomas Wynn and his sister Olivia provided provided memorable dual lead vocals. Harmonica player Chris Bell was explosive each and every time he took a solo. His performance was a highlight of the set.
Read the full article online here: http://indiemusic.co/2016/01/07/butch-trucks-and-the-freight-train-band-roll-through-orlando/